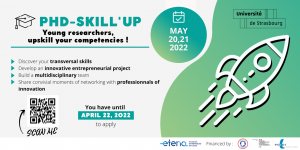 Dear doctoral students,
Are you interested in the sector of entrepreneurship and innovation?
Are you wondering what transferable skills you have acquired during you Phd?
Join us for the bootcamp PHD-SKILL'UP, coorganized by the Doctoral College and Pepite Etena of the University of Strasbourg!
Please find enclosed the provisional program.
The event is structured around the development of an innovative project as a team.
Your presence is therefore essential throughout the event!
Meals will be provided by the organizers.
Accommodation available on demand.
Transport costs for doctoral students coming from a partner university in the framework of EUCOR – The European Campus will be covered.
A good English level is required, especially oral skills (the whole event will take place in English).
By participating you will validate 15 hours of transversal training.
Do not hesitate to contact us if you need any further information!
Contact: h.eriksson@unistra.fr